SKIDDLE'S PAGE


Hello, to all my ICQ friends! WELCOME
I'm 45, married, and have three great kids, all grown now.
I live in Houston, Texas, work as an artist for myself, but
I used to work at a design company for a little over a year.
Before that, I worked as a secretary and a business manager.
I have many hobbies, but I love to chat and make new friends.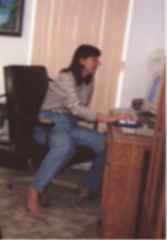 I love to sit at my computer daily and work or play; whichever mood I may
be in at the time. I love to create websites; like this one and have for a friend
of mine already.. I would probably create one for you too, if you asked me,
but you would have to be patient as I'm just learning and not too fast. But I
love doing it and anything else that has to do with a computer, art, or design.
Being a creater of sorts, I am also a lover of poetry, and also write some of
my own.. I've created a link to be able to share some of them with you, if you
have the time and the notion to go and read them...hope you enjoy.

Poetry Link


And if you'd like to email me.. just click on my little mail box.